Monday, October 2, 2023
The Verily Health Equity Center of Excellence: Addressing Demographic Disparities in Healthcare, By Design
Published
Monday, October 2, 2023
As a clinician, population health champion, and federal healthcare leader, I've seen firsthand how persistent racial and demographic disparities in healthcare have led to unnecessary suffering and death. In my home state of Louisiana, you can look at a city like New Orleans and see up to a twenty year discrepancy in life expectancy from the predominantly white Garden District to the predominantly black New Orleans East — a community that has in many ways been left behind.
Our mission with the Health Equity Center of Excellence (HE COE) is that no community gets left behind. The HE COE is a cross-functional team, building and strengthening our capabilities to reach underserved or underrepresented communities in an effort to afford those communities high-quality, equitable care and research opportunities. We're embedding principles of health equity and diversity by design into the entire lifecycle of our products, from ideation to development, and post-market processes. 

In doing so, I'm hopeful that we can better address these inequities, and address their often tragic consequences. These aren't just statistics – people's lives hang in the balance. Verily's core mission is to deliver precision health to everyone, every day and in order to achieve this mission, we need to instill health equity within our products and organization as a foundational capability.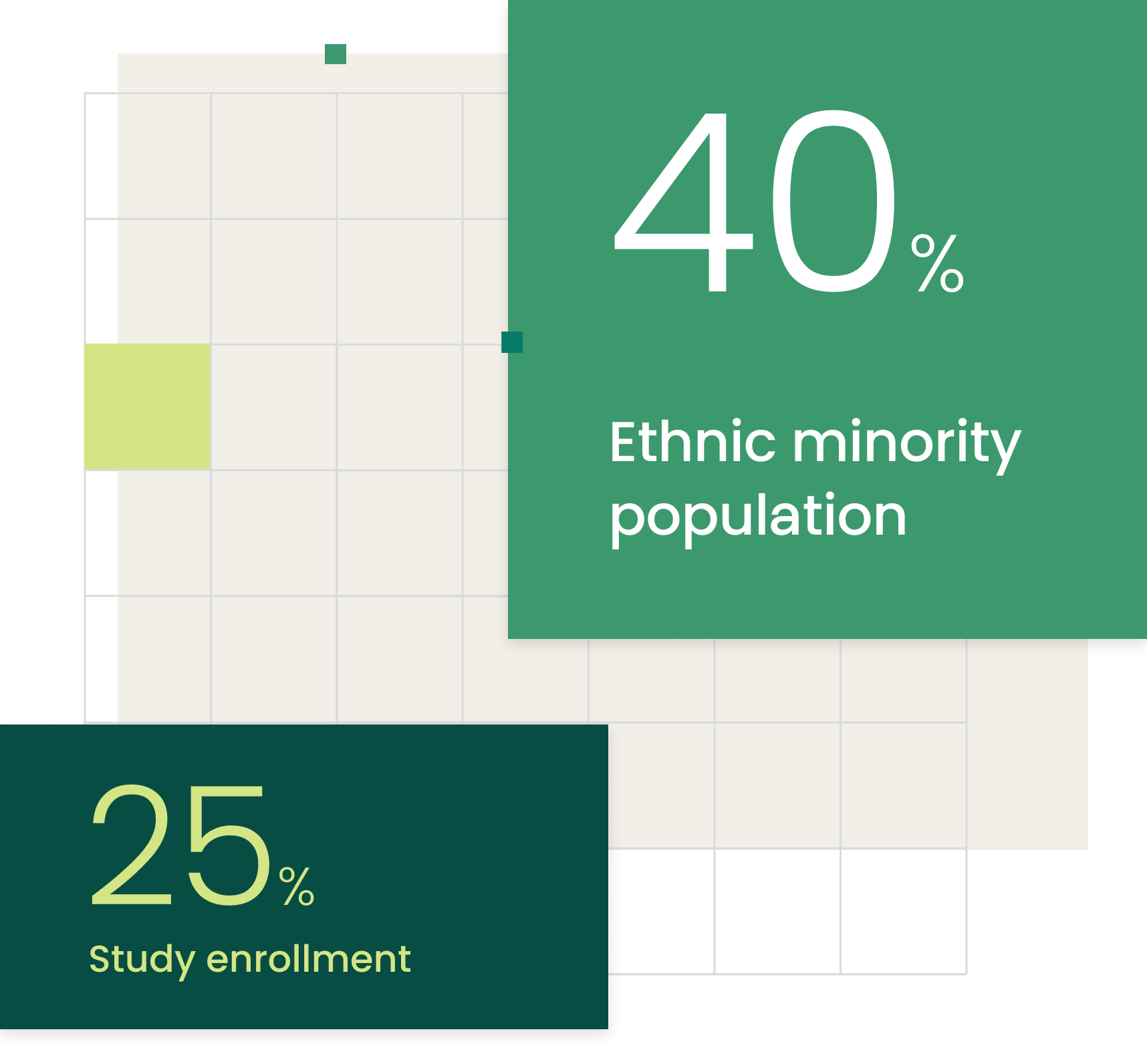 Addressing imbalances in research and care
Traditional clinical trials include an imbalance in race, gender, and age of participants. Ethnic minorities make up 40% of the population yet their enrollment in clinical trials is somewhere between 2-15%. As we stated in a recent publication on DEI in clinical research, the research community has an imperative to make DEI principles key foundational aspects in study conduct in order to pursue better personalized medicine for diverse patient populations. By only studying one group of people, we're effectively solving for the majority and hoping it works for the rest of us.
The result? Care and treatment regimes that are blind to the needs of broad swaths of the population. Take, for example, the ubiquitous oxygen saturation monitor. They don't work as well on Black people because higher levels of melanin in dark skin can interfere with the light pulses emitted by the monitors measuring blood oxidation. For many years this was considered an acceptable, clinically irrelevant fact of life. That was true for decades until multiple studies showed that these less accurate readings led to real differences in care, with possibly catastrophic consequences in outcomes for dark-skinned patients. This example, and many others, highlight how health equity implications, when not considered early and checked throughout the design and deployment process, create real and significant harm to historically discriminated and marginalized populations.
We're already seeing a shift in expectations and action from policymakers: CMS has indicated that they will want evidence for novel products to reflect the diversity of their covered population. In their coverage policy for new Alzheimer's therapeutics, issued in August, 2022, CMS includes in its criteria for future evidence development that study populations must include a diversity of patients that are representative of the national population with the disease. The Consolidated Appropriation Act, 2023 included a few provisions on diversity in clinical trials. For example, the bill requires drug sponsors to submit diversity action plans for certain late-stage drug trials, including all phase 3 trials, as well as most device studies. The Secretary will issue or revise draft guidance on a number of issues, including the use of technologies in trials with a focus on including more diverse populations.
Better engagement leads to better data
As technology allows us to expand the data pool with biometrics, wearable devices, and technology that gathers patient-reported experience, collecting and analyzing information is becoming easier and faster. But these data need to be reflective of communities that have been traditionally shut out of the process. If inequitable consequences for underserved or minority populations are monitored only after a product is on the market, we're reliant on inefficient, reactive, case-by-case corrective actions.
The HE COE will be initially focused on the development of standard practices to ensure diversity, equity and inclusion principles are key foundational aspects in any clinical study in order to pursue better, personalized medicine for diverse patient populations. We're using this framework to design studies that are more inclusive and built with diversity as a key criteria for success. Most recently, Verily launched My Skin & Hair Journey, a multi-year study developed with L'Oreal that aims to be the largest and most diverse skin and hair health study. Our data science teams are partnering with performance marketers to implement algorithms to optimize digital ads and channels to drive more representative recruitment.
We're also launching a Participant Advocacy Panel, our first community co-design group, inviting people to join with lived experience with cancer to help us design better and more equitable ways to fight the disease. Engaging communities in a systematic, structured, longitudinal manner will not only be important for the deep understanding necessary to develop products that are calibrated for health equity, it also begins the path towards generating trust, something that has understandably been eroded. This will take time and a deep understanding of the complexities at play, but it's something we're committed to as an organization.
Providing better care and generating better evidence
Another way we're addressing inequities is to better measure how people actually live their lives. People have a lot on their plate: from work to taking care of family, it can be hard for one to eat healthily and exercise regularly, let alone manage a disease like diabetes which requires consistent attention. Verily Onduo, our personalized virtual care solution simplifies and automates the management of diabetes, while also generating real-world evidence on diverse populations. By understanding someone's health and risk factors, tracking glucose levels and other physiological markers, and giving personalized, app-based feedback, Onduo is the nudge that helps patients continue to make healthy decisions when they aren't at the doctor's office. In fact, Type 2 diabetes patients using Verily Onduo saw more improvements in their glucose and cholesterol levels than other health programs.
At the same time, we're generating new, high-quality data which takes social determinants of health (SDoH) into account. With a wide range of users, Verily can use results to power research into new drugs, devices, and treatment approaches that can work for varied demographic groups. This creates a virtuous cycle of care and evidence – patients receive better care, more evidence is generated in the real-world, which can lead to more personalized interventions in the future and ultimately, better outcomes. We're now expanding the use of Onduo to help better manage other health issues, like obesity and mental health.
Onduo is not the only method through which Verily is leading through diversity by design. The Verily Retinal Camera is another solution purpose-built to overcome low healthcare utilization and health inequities by innovating for those who need them most, and by making it easier for providers to uphold higher standards of care for more patients. As researchers and engineers worked to design a camera that supports clinicians in screening for retinal disease, we found that existing cameras didn't work as well on people of color, older people, or people with diabetes. Because we made this discovery early on in the design process, and made diversity a priority, we were able to create a camera, in partnership with Nikon, that was able to adjust for a broader range of variables in physiology. With an overlay of our software tools and a focus on primary care settings, we are able to enable better access to retinal screenings not just for one dominant segment of the population, but for everyone.
Health technology brings significant opportunities to expand access to quality research and care. From Verily Onduo's Spanish speaking capabilities, and access to specialty diabetes care, to our latest partnership with One Oncology and SignalPath, making it possible for community oncology practices to enroll more patients from underrepresented groups. We can't move the needle on equity until we solve for access, which is a priority for the partners, for pharmaceutical sponsors, and for the FDA.
Putting health equity at the center of what we do
Health equity cuts across all aspects of what we're doing at Verily, as we think about research, care delivery, and integrated devices. By developing standard practices that ensure diversity, equity and inclusion are foundational aspects in our clinical studies and product design, we can create better, personalized medicine for all.