Monday, April 27, 2020
CARE
COVID-19
BASELINE COVID-19 TESTING PROGRAM
Verily's support of Rite Aid's expansion of COVID-19 test sites
Verily's support of Rite Aid's expansion of COVID-19 test sites
Verily is working with Rite Aid to expand testing across multiple states, including Delaware, Idaho, Michigan, New York, New Jersey, Ohio, Pennsylvania, and Virginia. Building on our support of the California community-based testing program, we are proud to assist more communities nationwide in their efforts to quickly establish testing.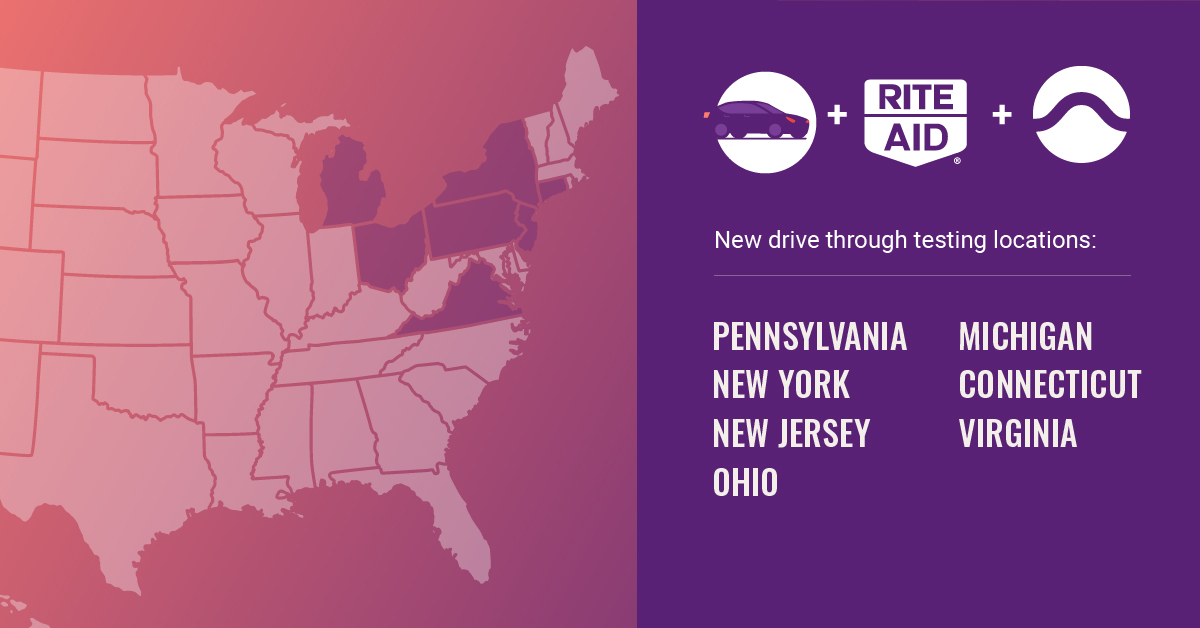 Verily's Baseline COVID-19 Program provides a secure connected online solution to support individuals from screening to in-person testing at community-based sites and receipt of their test results, which is done under a licensed provider. Providing a single, end-to-end foundation for testing, the platform reduces burdensome manual processes to help people get tested faster.
Rite Aid, in partnership with the Department of Health and Human Services (HHS), is operating 25 testing sites under guidelines from the Centers for Disease Control and Prevention (CDC) using this program.
Through the program, individuals can be triaged into testing based on risk guidelines from public health authorities and self-schedule appointments. This helps testing programs gain greater visibility into operations and avoid dangerous overcrowding at testing sites. The Riverside County public health department noted that the Baseline COVID-19 Program in collaboration with their California community-based testing site (CBTS) helped cut test scheduling time from an hour to just seven minutes. The program overall has screened more than 150,800 individuals, and facilitated testing for more than 19,500 to date*.
Along with efficient and accurate screening and testing, our program also enables the collection of high-quality information that can help public health officials respond to the crisis. Such data from individual testing sites and in aggregate from sites run by different entities could inform decisions by local and state authorities about how to tailor their responses or ease restrictions.
Experts note that continued testing is critical for containing and managing the COVID-19 pandemic until a vaccine is widely available. Our work is part of a broader effort to help scale testing through a spectrum of collaborations and initiatives involving government and industry partners. In collaboration with the state of California, we've established eight testing sites since March 13, in San Mateo, Santa Clara, Riverside, Sacramento, San Joaquin, Napa, and Los Angeles Counties. In collaboration with Rite Aid, we've established 25 testing sites across eight states. We've also released a Community-Based Testing Guide for communities to quickly establish their own testing programs.
We look forward to sharing more as the work continues. To learn more about testing through the program, visit projectbaseline.com/covid19.
---
*Based on data collected as of 4/24/20